Bonsai Trees
From Garden Centre Stock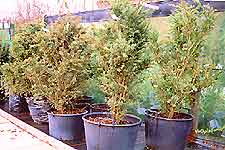 Most garden centres contain a wide variety of trees and shrubs, many of which are suitable for training as bonsai. By regularly visiting different garden centres you will probably be surprised at how often the stock changes. Always be on the lookout for that special tree that has the potential to be a truly wonderful bonsai. This may be a specimen shrub or possibly a stock plant.
Even if the plant is not displayed as being for sale, don't be afraid to ask if you can strike a deal. It is worth checking and often the price is very reasonable. If you cannot find something in particular that you are searching for, ask if it can be ordered. Some garden centres will order plants and let you look at them before deciding whether you wish to purchase.
Avoid choosing species with yellow or golden foliage as this often gives the impression of the tree being deficient. Also variegated varieties tend to be rather too fancy.
Garden centres sell many types of tree that are ideal for group plantings. Hedging material is often very suitable and in the autumn, bare rooted stock provides good value.
Seed
Cuttings
Air Layering
Bonsai Nurseries
Collecting from Gardens
Collecting from the Wild
Garden Centre Stock